LG G3 LTE-A goes official with Snapdragon 805 inside
LG has finally unveiled the G3 LTE-A. The device is going live for domestic Korean customers and will start selling on July 25, just as expected.
The LG G3 LTE-A Cat 6 (previously referred to as LG G3 Prime) builds on the international G3 hardware but improves with a faster chipset – the Snapdragon 805 with 3 GB of RAM and the Adreno 420 GPU.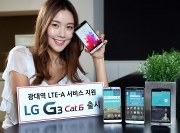 LG G3 Cat 6
The LG G3 Cat 6 will also have 225 Mbps downlink capabilities in South Korea thanks to its Qualcomm Gobi 9×35 category 6 LTE-A modem.
The LG G3 Cat 6 will meet the Samsung Galaxy S5 LTE-A spec for spec and on retail shelves. The question remains, though – when will the rest of the world see these two devices.
Source