AT&T doesn't play nice, locks the Apple SIM
Alongside the new iPad Air 2 and iPad mini 3 Apple introduced the Apple SIM – a way to use just one SIM card and switch between carriers and their services.
However ATT doesn't want to play along and will lock the SIM to only its services. Users have been seeing this disclaimer: "Once activation is complete this Apple SIM can only be used with ATT. You will need a new Apple SIM if you change carriers in the future". Well that's not nice!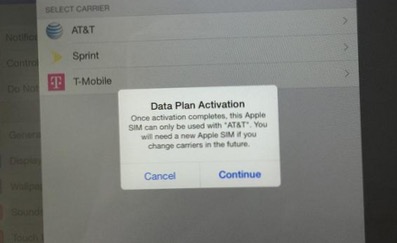 This leaves the Apple SIM compatible with Sprint, EE in the UK and T-Mobile in the US, which seems the only working right now in the US – Sprint may have some issues currently.
Interestingly if you buy a new cellular Apple iPad Air 2 or mini 3 from Apple or an authorized reseller you'll get an Apple SIM preinstalled but if you buy it from Sprint, for example, it will have a Sprint SIM.
It seems carriers aren't really on board with Apple's one for all plan just yet.
On Ipad with@apple sim here is what u see..no @Verizon ,@ATT trying to lock u, @sprint with error page! @TMobile wins pic.twitter.com/z0jDZ9sRt5

— John Legere (@JohnLegere) October 23, 2014
Source | Via